Great collections of Farewell Wishes Messages for Colleagues, Friends, Students, Teachers. A touching message, heartfelt goodbye quotes, plethora of funny jokes, inspirational farewell speeches, and greeting cards that celebrate their achievements in the office, School, College.
Farewell Wishes Messages
1) With your resignation your employment in this company may finish, but the sweet memories of working with you will never diminish.
Goodbye and farewell.
2) Today our team is going to lose its sense of humor and its heart beat. Farewell to the colleague who made every day seem like a treat.
3) Instead of saying farewell to you, I wish I could say fare-bad so that you come back and continue working with us. But I won't… because I always wish the best for you. Farewell.
4) If I knew that you would turn out to be such an extraordinary employee, I would have asked you to sign a 10 year contract so that you would never leave me. Farewell.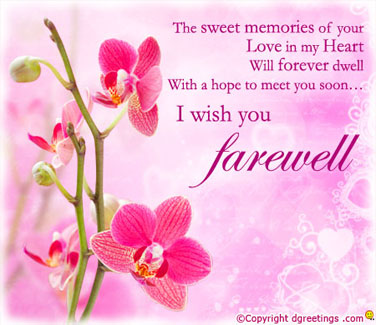 5) We have planned a grand department party next week which you won't be able to attend because it seems that life has grander plans for you. Farewell and we will miss you.
6) Your resignation has shook us from the core. Without you, work is going to be a bore. Your departure has made us all sad. Your absence is going to drive us totally mad. Farewell.
7) You better send me a sweet and cheerful good morning text every day. After you leave, I will have nothing else to help me look forward to the day at work. Farewell.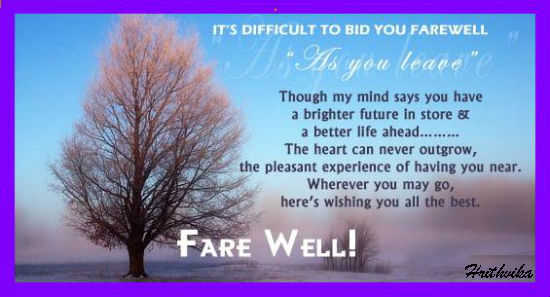 8) In your absence, who will I blame for not meeting deadlines? I'll miss you, farewell.
9) I am saying goodbye not just to a colleague, but also to a friend and my greatest source of inspiration. Farewell.
10) The boss may be sad because of losing a hardworking and efficient employee, but we are sad because your heart-warming smile we will no longer see.