Wedding Card Wishes Quotes – Congratulations Messages on getting married: Looking for the perfect messages to say congratulations to a couple for getting married? Write something cute on a greeting card and use the most touching words in your speech for the new husband and wife.
Wedding Card Wishes Quotes
1) May the collage of your married life be filled with colorful pictures of happy memories.
Congratulations on your wedding.
2) Today I have realized that I have made the wrong career choice. I should have been an astrologer because I predicted that you both would get married some day.
My best wishes to you both.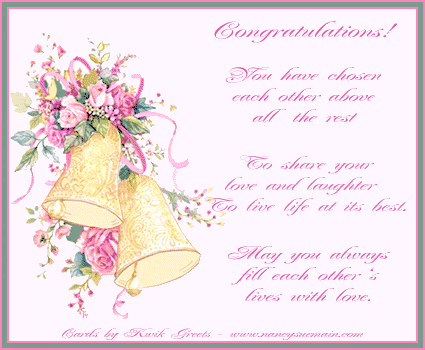 3) No matter how beautiful the decor and setting of your wedding venue is, it will never be able to beat the beauty of a couple like you.
Congratulations.
4) Has anyone ever called you both the toughest couple ever? I am today, because there is nothing that can break the strong bond you both share.
Congratulations on getting married.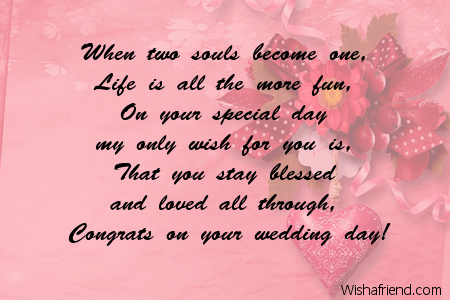 5) You are not a real prince and your wife is not a real princess. But if you always treat each other like royalty, you will be the happiest couple ever.
Congratulations.
6) On your wedding day we are witness to the most beautiful sight ever – a couple as perfect as you committing to spend their lives with each other.
Congratulations.
7) Just like the glass of bubbly used to raise this toast, may the bubbles of happiness always keep overflowing in your married lives.
Congratulations.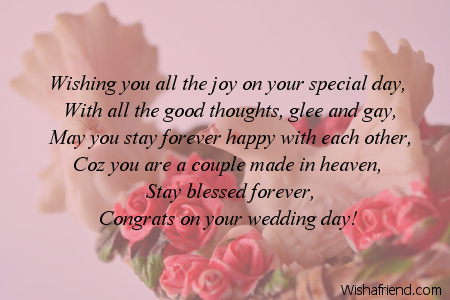 8) Among the thousand steps that you have taken together in the journey of your lives and your relationship, your marriage has been the best one.
Congratulations.
9) The moment you say 'I do' is when your love for each other will stop feeling like an adrenaline rush and start feeling like a bare necessity, without which you will not be able to live even a single day. Congratulations for getting married.
10) Your wedding is just a beginning and nothing more. Because a true love like yours can never have an end.
Congratulations.