Graduation from kindergarten, grade school, high school, college, or technical school is a huge accomplishment for your graduate. It's important to recognize this terrific event with graduation wishes in a personalized graduation card. The graduation messages, wishes and quotes you write will make a positive impact on the young graduate and help boost their confidence. Any special graduation sayings you add to your graduation messages can help make the graduate smile and feel thankful to know you. So check out the messages and quotes here and send them a card today.
Congratulations for Graduating Messages
Congratulations, Granddaughter! Can't help but to reflect on all of the things that you bring to our lives happiness, pride, love, and a life filled with great moments.
Congratulations, Kindergarten Graduate! Up, up, and on your way to even greater success!
Congratulations, Graduate From Your Mother and Father We are happy just knowing that you're greatest hopes and dreams are happening for you. Our hearts are overjoyed and we know that your life is still full of promise. We love you!
I know school was your second resort when hitting the Powerball didn't pan out. But, you've done well anyway! Congratulations, Graduate!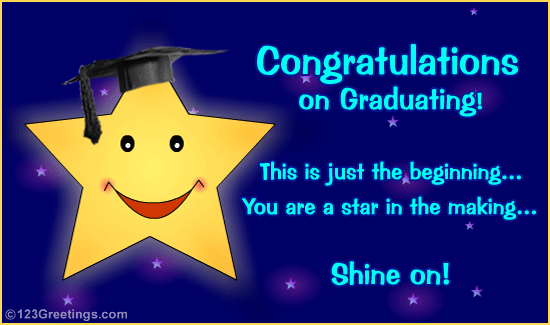 I may have missed your day, but what's coming ahead won't be missed by any of us YOUR SWEET SUCCESS! Congratulations, Graduate!
There are so many words that I could use to describe you but I'll simply use two that seem the most appropriate today Phenomenal Graduate! Congratulations!
Teachers are workers, from day to night. They're working to help their students to get their material and those important life lessons right. They're working to improve them and to help them to grow. You're one of the best teachers that we have had the pleasure to know. Thanks!
You've taught me so much more than book knowledge. You've taught me life's knowledge. Thank you!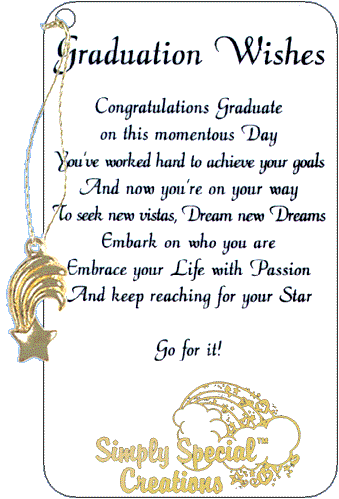 Our wish is that you have the greatest of all things the greatest success, greatest career, and the greatest future! Congratulations!
Congratulations On Your Graduation, Nephew! The pride that we feel watching you achieve your goals is a defining moment for all of us!
May God forever bless you, on graduation day and always!
May your memories follow you through life as you reflect on your accomplishments, your success, and your tomorrows. Congratulations, Graduate!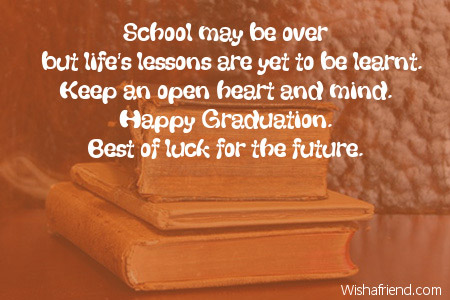 May happiness and success follow you throughout your life! Congratulations On Your Graduation!
You will face many challenges. When you do, never ever back down. You can be successful if you believe. I believe in you and I know that this is just the first of many successes to come! Congratulations, Graduate!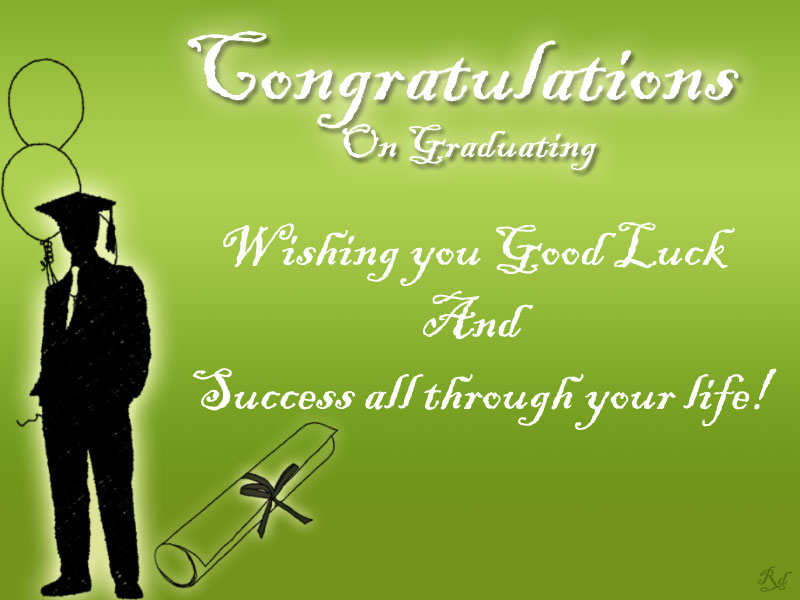 You have done exactly what you needed to do to make this dream come true. Now, the whole world is before you and waiting for you to make your mark. Congratulations On Your Graduation!
It's not just about who encouraged you. It's about you taking that encouragement and making it your reality. You did it and you deserve praise for your accomplishments! Congratulations On Your Graduation!